The Santaland Diaries

Thursday 28 November – Sunday 1 December 2019


A hilarious and beloved account of life as an elf at Macey's in the Xmas rush hour, based on the famous text by David Sedaris.
Now as a one-man-show, rainbow-coloured, screwball performance PLAY. Don't miss!
adapted for the stage by Joe Mantello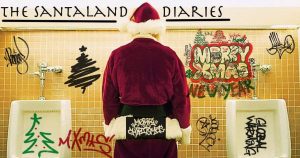 The Santaland Diaries is a brilliant evocation of what a slacker's Christmas must feel like. Out of work, our slacker decides to become a Macy's elf during the holiday crunch. At first the job is simply humiliating, but once the thousands of visitors start pouring through Santa's workshop, he becomes battle-weary and bitter.
Finding consolation in the fact that some of the other elves were television extras on One Life to Live, he grins and bears it, occasionally taking out his frustrations on the children and parents alike.
When a new Santa arrives at the workshop, things seem to be different, but will our slacker be able to find the gay Christmas spirit before his employment runs out? It's a hoot!
Bring on the quirky Xmas cheer with this hilarious dramatised performance monologue by Canadian/British character actor David Barrett.
The Santaland Diaries is a well-loved iconic American classic that has entertained 2 generations of dry humour-lovers, at Christmas time every year, since it was first broadcast on National Public Radio in the States, in 1992, to huge public acclaim. Now being brought to Denmark in its sell-out stage version.
TICKETS:
https://www.teaterbilletter.dk/forestillinger/the-santaland-diaries/
With: David Barrett as Crumpet
Directed by: Jeremy Thomas-Poulsen
Playwright: David Sedaris, adapted by Joe Mantello
Produced by: HIT
Co-producer: Down the Rabbit Hole Theatre
Length: 1 hr 20 minutes
Recommended: From age 15 upwards
Performance is in English.
Evening shows at 8pm/ Sunday at 5 pm.
Playing at:
Krudttønden
Serridslevvej 2
2100 KBH Ø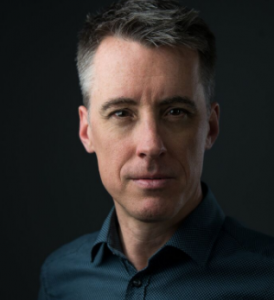 About the actor:
Copenhagen-based British / Canadian actor David Barrett was previously seen as Vanya in HIT's hilarious production of Vanya & Sonia & Masha & Spike and as Ross in Playmate Theatre Malmo's production of The Goat or Who is Sylvia?
David is also a theatre director. He has successfully directed two British pantomimes in Copenhagen, and is currently directing his third one "Beauty And The Beast". In Canada, David was the founder of Waiters On Stage theatre company, which under his direction won best one-act play in Alberta for "Caffeinated" and again for "Bloodtide". Previous stage roles include: Vallier in "Lilies"; Leonard Vole in "Witness for the Prosecution", Lord Fancourt Babberly in "Charley's Aunt" and Arnold in "Torch Song Trilogy".
STILL AVAILABLE ON TOUR:
The Clean House
by Sarah Ruhl
CphPost ⭐⭐⭐⭐⭐
Kulturtid ⭐⭐⭐⭐
Pov.International ⭐⭐⭐⭐
CphCulture ⭐⭐⭐⭐
"…as an ensemble, the acting by the cast rises superbly to reach new heights"
"…the funniest play I've ever seen in Copenhagen"
"Touching play resonates with us all…
Ensembles don't come along like this very often…Masterclass in direction…"
(CphPost)
"…hilarious and dramatic all rolled up into one sensational play with professional and humorous actors! What a win to find theatre in English – great for our Internationals…. not to be missed and a definite thumbs up from The International!"
(The International Denmark Magazine)
"HIT does it again! English theatre in the heart of Copenhagen. Brilliant performance of Sarah Ruhl's The Clean House".
( Danish Life Magazine)
The Clean House is a HIT production, a collaboration between Down the Rabbit Hole and Manusarts.
(Photo credit: Filip Misiak Orestes)
Thanks for support for this production go to Københavns Kommune and Konsul Jorcks Fond.
(all photos by Filip Orestes)
The Urban Hunt – by Malte Frid-Nielsen, available in English and Danish. One city-dweller's powerful, touching and funny journey into foraging for survival in the urban desert of life. A tour de force by Malte of physical and text-based theatre.
Elsie and Norm's MacBeth – hilarious British comedy and 26 costume changes. Shakespheare as you've never seen it in the living room of a sweet little Yorkshire couple determined to give the Bard his due over beans on toast! With brilliant performances that will have you in fits.
Down the Rabbit Hole Productions at House of International Theatre
Contact: jmthomaspoulsen@gmail.com