By Philip Ridley
Playing 20 May – 31 May 2020
Tender Napalm is a Down the Rabbit Hole production also being presented as part of CPH Stage 2020.
"… [a] viciously funny and deeply sensual examination of the way love shipwrecks us on a desert island from which there can be no rescue."
"Seldom has sexual love been explored on stage with such ferocious honesty, brutality and melting tenderness. … 80 unflinching minutes so intimate you want to avert your eyes." (The Guardian 2011)
BOOK TICKETS:
https://www.teaterbilletter.dk/forestillinger/tender-napalm/
This play is for anyone in the audience who has ever been madly in love. And everyone who sits there wondering what will happen to our poor little planet …
The plot
Tender Napalm is a play that goes not just into the bedroom, but into the mind.
Man and Woman – unnamed – are shipwrecked on a desert island. He is a post-war fighter pilot. She is his wife. Their child is lost.
With elaborate stories of wild monkeys, aliens, tsunamis, sea monsters, Man and Woman role-play and fight for control of their island. Amid all their make-believe, they play by certain rules – part fairy tale, part adventure story and part boy-meets-girl romance.
Somewhere at the heart of these fantasies is a real wounded relationship. A boy and girl, once teenage sweethearts – seen on stage in flashback, – now grown into a man and a woman in a destructive universe that is sweet, funny, lyrical and graphic, all at the same time.
Basically it is the story of every marriage you have ever known!
About the playwright
Don't miss this explosive two-hander and high impact drama by Philip Ridley, one of Britain's greatest contemporary, prolific dramatists – himself a poet, novelist, photographer, songwriter, horror film-maker, artist, as well as a playwright.
The multi-disciplinary artistic vision that drives the dramatist Philip Ridley, will in our production in Copenhagen be represented on stage by a cast of actors and a live, performing visual artist simultaneously creating works of art.
About the play
Tender Napalm is included among the 'best theatre of the year' lists, by Time Out London, The Observer and The Guardian and the London Fringe Best Play Award nominee.
Tender Napalm belongs to the modern tradition of elemental battle-of-the-sexes plays, with truth-and-illusion games played by the couples in Strindberg's "Dance of Death", Pinter's "Old Times", or Albee's "Who's Afraid of Virginia Woolf?".
In Tender Napalm, words and poetry are the lovers' primary weapons. The script gives us flashbacks of invasions and bombings. There are glimpses of bleak and brutal themes: war, terror, post-traumatic stress, environmental destruction. But more importantly, and above all, it is a love story.
The island of Tender Napalm is a dystopian, post-apocalyptic world and somehow a place intimately contemporary and familiar.
Do YOU dare to watch…?
BOOKING IS NOW OPEN:
https://www.teaterbilletter.dk/forestillinger/tender-napalm/
_________________________________________________
On stage: Paul Gordon, Vanessa Poole
Live artists TBA
Director: Jeremy Thomas-Poulsen
Playwright: Philip Ridley
Produced by: Down the Rabbit Hole
Length: c. 1 hr 20 minutes.
Recommended from ages 15 and up
Performance is in English
Venue:
Krudttønden
Serridslevvej 2
2100 KBH Ø
THE CAST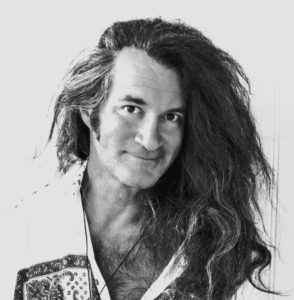 Paul Gordon
Paul Gordon is a trained actor and dancer, with a strong background as a physical comedian, originally from New York, now based in Copenhagen. He spent 16 years traveling the world with his own dance-based comedy theatre company, performing on stages and tv shows in over 30 countries, allowing him to reach an estimated worldwide viewing audience of over 1.5 billion people. Paul has performed on Broadway, at the Southbank Centre in London, at the Edinburgh Fringe – where he won the Critics' Choice Award, at Seoul Opera House and in hundreds of venues from Tokyo to Aarhus, including the David Letterman Show and at Lincoln Center, NY.
Paul has held masterclasses and workshops throughout the USA, Canada, Europe, Israel, Japan, Korea in modern dance, devising, history of performance art, creativity theory, theatre collaboration. At present, when not performing, he teaches Physical Theatre/Performing Art/Devising at KFTS Københavns Film & Teater Skolen. Paul has also worked as a university professor, a salmon fisherman in Alaska, a garbage man in New York and ran his own pie shop in the town of Pie Town, New Mexico (population: 50).
———————————————————–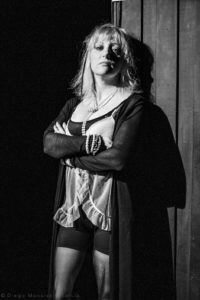 Vanessa Poole
Vanessa Poole is a trained actress and voiceover artist. Now based in Malmö/ Copenhagen, British-born Vanessa started working professionally recording English radio plays for schools at the age of 8 in Malta. She has many years of acting experience, played secondary, chorus and lead roles in classical theatre, pantomime, Shakespeare and contemporary theatre, in Scandinavia and at the national theatre in Malta. Vanessa has also had dance training, is equally at home playing drama or comedy and is a successful international voiceover artist.
In Sweden she played Max's mother in the Swedish TV series SVT/UR "Max's Movie". Leading stage roles include: for HIT: Virginia (2019) in The Clean House; Sonia (2018) in Vanya & Sonia & Masha & Spike; lead female ensemble (2017) Lovers, Authors & other Strangers (ManusArts, Hamburg/ Copenhagen).
In Malmö: Stevie in Playmate's The Goat, or Who is Sylvia? (2019); Lotte Schoen (2018) in Lettice and Lovage (Playmate, Malmö); Vanda Jordan (2017) in Venus in Fur for Down the Rabbithole Cphgn/ Playmate Malmö; Lead Elsie (2016) in Elsie & Norm's MacBeth (Down the Rabbithole, Cphgn/UK); female ensemble in The Dining Room, Ruth in Calendar Girls, Madam X in Strindberg's The Stronger, the homicidal nurse in The City (Why Not Theatre,Copenhagen) and more.
Vanessa has had drama training in Sweden, Denmark and the UK with among others Giles Foreman, Simone Reynolds, Patsy Rodenburg, Kirk Baltz, Judy Kuhn and Declan Donnellan.
————————————————————–
Tender Napalm is also being presented as part of CPH Stage 2020