by David Sedaris
28 Nov – 1 Dec

Thursday/ Friday at 20;00 hrs.
Saturday at 12:00 hrs.
Sunday at 17:00 hrs.
A hilarious and beloved account of life as an elf at Macey's in the Xmas rush hour, based on the famous text by David Sedaris.
Now as a one-man-show, rainbow-coloured, screwball, song 'n dance performance PLAY. Don't miss!
adapted for the stage by Joe Mantello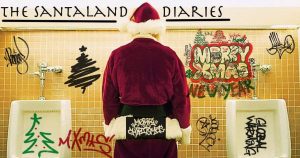 The Santaland Diaries is a brilliant evocation of what a slacker's Christmas must feel like. Out of work, our slacker decides to become a Macy's elf during the holiday crunch. At first the job is simply humiliating, but once the thousands of visitors start pouring through Santa's workshop, he becomes battle-weary and bitter.
Finding consolation in the fact that some of the other elves were television extras on One Life to Live, he grins and bears it, occasionally taking out his frustrations on the children and parents alike.
When a new Santa arrives at the workshop, things seem to be different, but will our slacker be able to find the gay Christmas spirit before his employment runs out? It's a hoot!
Bring on the quirky Xmas cheer with this hilarious dramatised performance monologue.
TICKETS:
https://www.teaterbilletter.dk/forestillinger/the-santaland-diaries/
With:
David Barrett as Crumpet
Karl Heding on guitar
Lakeisha Salto on vocals

Directed by: Jeremy Thomas-Poulsen
PLaywright: David Sedaris, adapted by Joe Mantello
Produced by: HIT
Co-producer: Down the Rabbit Hole Theatre
Length: 1 hr 20 minutes
Recommended: From age 15 upwards
Performance is in English.
Playing at:
Krudttønden
Serridslevvej 2
2100 KBH Ø