LAST TANGO IN LITTLE GRIMLEY
by David Tristram
Welcome to A guest performance in English of
"Last Tango in Little Grimley"            ⭐⭐⭐⭐⭐
a screamingly funny, very British-style, riotous comedy being hosted by HIT, House of International Theatre
Audiences love it!:
"this was a seamless performance – quite literally as all manner of silky, sexy and slinky garments were adorned and ripped off in full view. "
"…it's frenetic sex farce meets French cabaret meets fast-forward on your VHS – a highlights reel of their night in tights in front of the lights, full of unexpected appearances"
( Review: CphPost Nov 2019)
http://www.cphculture.dk/c408lasttangoinlittlegrimley.html
"LAST TANGO IN LITTLE GRIMLEY må være årets sjoveste engelsksprogede produktion i København og endnu en sejr for de gæve folk bag Down The Rabbit Hole og House of International Theatre."
About the play:
A local Dramatic Club's desperate group of actors realise their failing theatre group is faced by a grim future and choose a play to put on in panic – possibly their last ever. Group membership has dwindled to four – audiences aren't much bigger – and if they don't come up with rent, they're going to be thrown out. "There's only one thing that sells tickets – Sex!".
Thus begins the chaotic and hilarious build-up to an evening of extraordinary home-grown drama, an evening the locals will never forget! Can this group of rather special individuals pull off the biggest farce Little Grimley has ever seen? Or will they soon be disbanded, the laughing stock of the village? This play encompasses 80's costumes, cut throat sarcasm and FULL NUDITY… or does it?
If you love watching cheery, thigh-slapping, ticklingly British comedy classics such as the Carry On films, Monty Python, The Goon Show, Absolutely Fabulous or Fawlty Towers – to name but a few well-loved favourites from a generation of  British TV – then this very British style of comedy as theatre –  is right up your street! Now in Denmark with a cosmopolitan twist!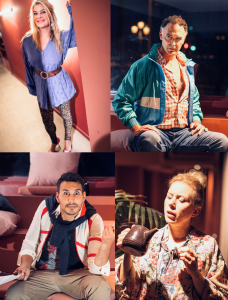 Cast:  Dawn Wall, Dina Rosenmeier, Tom Hale, Pejman Khorsand-Jamal, Alun Thomas.
Playwright: David Tristram
Hosted by: Down the Rabbit Hole
Length: 1 hr 10 minutes
Recommended from ages 12 and upwards
Venue:
Matrikel1
Højbro Plads 8-10,
1200 Copenhagen K
(Photos by Filip Orestes)
TICKETS:
https://www.teaterbilletter.dk/forestillinger/last-tango-in-little-grimley/