THE SANTALAND DIARIES
by David Sedaris
28 Nov – 1 Dec
Thursday/ Friday at 20:00 hrs.
EXTRA PERFORMANCE : Saturday at 12:00 hrs.
Sunday at 17:00 hrs.
A hilarious and beloved account of life as an elf at Macey's in the Xmas rush hour, based on the famous text by David Sedaris.
Now as a one-man-show, rainbow-coloured, screwball

performance PLAY. Don't miss!
adapted for the stage by Joe Mantello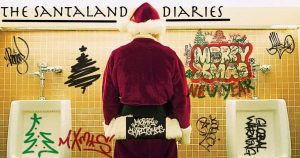 The Santaland Diaries is a brilliant evocation of what a slacker's Christmas must feel like. Out of work, our slacker decides to become a Macy's elf during the holiday crunch. At first the job is simply humiliating, but once the thousands of visitors start pouring through Santa's workshop, he becomes battle-weary and bitter.
Finding consolation in the fact that some of the other elves were television extras on One Life to Live, he grins and bears it, occasionally taking out his frustrations on the children and parents alike.
When a new Santa arrives at the workshop, things seem to be different, but will our slacker be able to find the gay Christmas spirit before his employment runs out? It's a hoot!
Bring on the  quirky Xmas cheer with this hilarious dramatised performance monologue by Canadian/British character actor David Barrett.
The Santaland Diaries is a well-loved iconic American classic that has entertained 2 generations of dry humour-lovers, at Christmas time every year, since it was first broadcast on National Public Radio in the States, in 1992, to huge public acclaim. Now being brought to Denmark in its sell-out stage version.
CRIT:
https://msvennevig.blogspot.com/2019/11/anmeldelser-santaland-diaries-og.html
"… charming solo performance … David Sedaris' "The Santaland Diaries" at Krudttønden tackles Christmas unconventionally … a gay comedy for adults … great performance by the actor [David Barrett]… who invests considerable warmth and charm in very different roles … who cuts through with a genuine, touching stage presence. For we find ourselves in the outer zones, where there is no immediate prospect of any white Christmas, but it may just turn out that way anyway … the stories slid down together with biscuits and mulled wine…"
(https://msvennevig)
"Det er gribende beretninger af julekunder, udklædninger og skingre børn, der føles som om det er ydmygelsernes yderste holdeplads for de fastansatte alfer og julemænd, men alt som fortællingen skrider frem, bliver det tydeligt at der ingen grænser er for ydmygelserne. De er uendelige – og meget ubetaleligt morsomme."
TICKETS:
https://www.teaterbilletter.dk/forestillinger/the-santaland-diaries/
With:
David Barrett as Crumpet
Karl Heding on guitar
Lakeisha Salto on vocals
Directed by: Jeremy Thomas-Poulsen
Playwright: David Sedaris, adapted by Joe Mantello
Produced by: HIT
Co-producer: Down the Rabbit Hole Theatre
Length: 1 hr 20 minutes
Recommended: From age 15 upwards
Performance is in English.
Evening shows at 8pm/ Sunday at 5 pm.
Playing at:
Krudttønden
Serridslevvej 2
2100 KBH Ø
About the actor: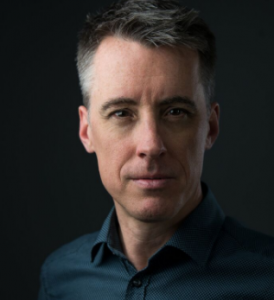 Copenhagen-based British / Canadian actor David Barrett was previously seen as Vanya in HIT's hilarious production of Vanya & Sonia & Masha & Spike and as Ross in Playmate Theatre Malmo's production of The Goat or Who is Sylvia?
David is also a theatre director. He has successfully directed two British pantomimes in Copenhagen, and is currently directing his third one "Beauty And The Beast".  In Canada, David was the founder of Waiters On Stage theatre company, which under his direction won best one-act play in Alberta for "Caffeinated" and again for "Bloodtide". Previous stage roles include: Vallier in "Lilies"; Leonard Vole in "Witness for the Prosecution", Lord Fancourt Babberly in "Charley's Aunt" and Arnold in "Torch Song Trilogy".
David Sedaris (AUTHOR) 
After moving to New York City in the fall of 1991, Sedaris found jobs as a housecleaner and department store elf to support his writing. In December 1992, Sedaris appeared on NPR, reading his story "The SantaLand Diaries," which recounted his experiences as a Christmas elf at Macy's department store in Manhattan. Sedaris's first book, Barrel Fever (1994), which included "The Santaland Diaries," was a critical and commercial success, as were his follow-up efforts, Naked (1997), Holidays on Ice(1997) and Me Talk Pretty One Day (2000).
Sedaris continues to tour in support of his books, with his readings drawing huge crowds. In 2001, Sedaris was awarded the Thurber Prize for American Humor and named Humorist of the Year by Time magazine. He has also earned three Grammy nominations for audio versions of his works, and in 2008 he was awarded an honorary doctorate by Binghamton University in New York.
The author has been with longtime boyfriend Hugh Hamrick, an artist and designer, since the early 1990s. After living together in New York City, Paris and Tokyo, the couple resides in West Sussex, England.