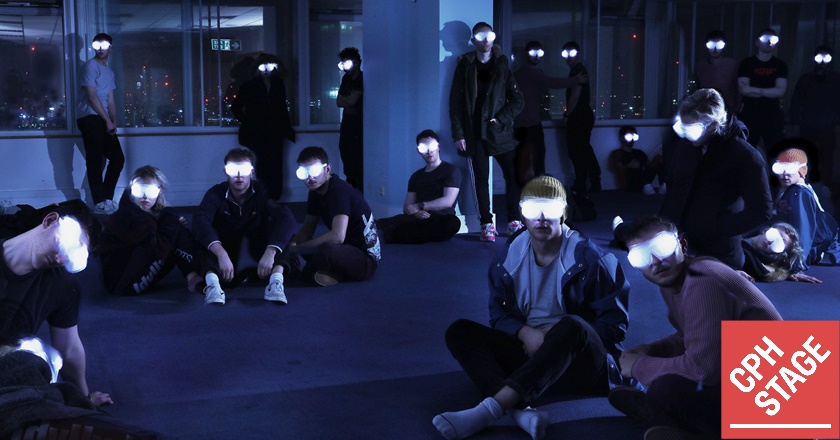 THE WHITE PLAGUE
Directed by Alexander Raptotasios
3 – 5 June 2021
Originally from London, this is a guest theatre production & immersive live stream performance piece & audience experience.
By Ferodo Bridges 
With Vicky Kyriakoulakou, Gil Sutherland, Samuel Mattioli, Alex Kiffin, Lilian Tsang
★★★★★ "A dystopian immersive masterpiece – UNMISSABLE!"
(To Do List, London)
Following a sell-out international run, and with a plot scathingly relevant to us all this year – Ferodo Bridges present an uplifting immersive binaural experience about isolation and plague, here in Copenhagen.

THE PLOT:
"10 years have passed since a fiercely contagious virus spread among a major city's population, causing a mysterious white blindness and eventually, society's collapse."

★★★★
"A very interesting and enjoyable theatrical experience that will stay with you for a long time." (London Theatre 1)
★★★★
"…bold in its experimentation with the immersive form, playing with many of the senses including sight, sound, and smell. This is a company who clearly work well together as an ensemble and have a strong understanding of non-visual
storytelling…a production worth seeing." (London Pub Theatres)
(Greek Press/National Newspaper Avgi:)
"A peculiar condition of blindness that feels weird but soon proves to be effective in immersing us in the character's psyche and living conditions."
(Art Harbour:)
"…a well-structured and inspired piece of theatre that contains the reality of the human tragedy through the loss of identity and basic human rights."
(Provocateur.gr:)
"I was extremely impressed by what I experienced. It completely immerses you in a world that seems strange and feels depressingly familiar. It gives an incredible new perspective on a story first conceived by Saramago and definitely rewards its audience."
Come join us!  Be part of this interactive, immersive, live experience placing the audience en masse in the middle of the action on stage,  using state-of-the-art sound design in situ.
(Venue: Literaturhaus)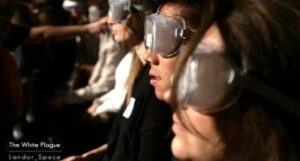 ABOUT THE COMPANY:
Ferodo Bridges is an international theatre company that creates and produces plays that engage audiences in an immersive and strongly political manner. The company's work mixes storytelling to create experiences that foster debate and communication, usually in unconventional spaces and by using all the sense. Ferodo Bridges is currently touring The White Plague and is in production for David Greig's The Events at the Greek National Opera. The company has also bee supported previously by the Arts Council England to create and tour work in England, and it has also presented work in Denmark, Japan and India in collaboration with various local artists and theatres.
PERFORMANCE TIMES:
Thursday 3 June   13:00 hrs
Friday 4 June        15:00 hrs
Saturday 5 June   17:30 hrs
Venue:
LITERATURHAUS
MØLLEGADE 7
2200 KØBENHAVN N
__________________________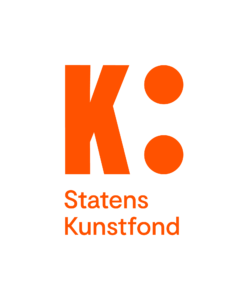 The White Plague is brought to Denmark with the gracious support of Statens Kunstfond.
__________________________________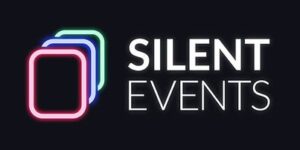 We would also like to thank the Silent Events company in Copenhagen for supplying audio equipment to HIT throughout CPH STAGE.
____________________________________

HIT's participation in CPH STAGE as HIT hits the Stage is graciously supported by the Aage og Johanne Louis-Hansens Fond.
_________________________________________________________________________
THE WHITE PLAGUE is one of five HIT plays this spring being performed under CPH STAGE as a part of HIT's international festival – HIT hits the Stage.
________________________________________________________________________

CREDITS:
Performers: Vicky Kyriakoulakou, Gil Sutherland, Samuel Mattioli, Alex Kiffin, Lilian Tsang
Director: Alexander Raptotasios
Lighting design: Ross Flight
Costume design: Marie-Cecile Inglesi
Dramaturg: Or Benezra-Segal
Video designer: Grae Clarke
Co-director: Esther Fernandez
Technicians Denmark: Karl Heding, Igor Halicki
Playwright: Alexander Raptotasios
________________________________________________________________________
COVID 19
Performances will be held with the utmost concern for health and safety, following all current Danish state guidelines. The use of face masks by the audience is encouraged. Hand sanitisers will be provided. The audience is limited to the maximum capacity according to the health ministry's recommendations. Our HIT COVID-19 unforeseen lockdown money back guarantee policy ensures ticket holders the freedom of using their ticket to a later show or a full refund.