⭐⭐⭐⭐⭐
A devised monologue piece by Malte Frid-Nielsen
Directed by Jeremy Thomas-Poulsen
A tour de force by a fantastic physical character actor…
Currently on tour and available for booking in English or Danish
Inspired by American journalist Brendan Kiley's article of the same name, this production concerns the hypocrisy regarding eating meat without being willing to get your hands dirty by killing an animal yourself.
To challenge his own hypocrisy, Brendan decides to become a hunter…but rather than venturing out into the wilderness, he brings the hunt into the city, where his prey includes rabbits, squirrels, pigeons, garden snails and more.
Ten years later, Malte Frid-Nielsen is inspired to try to follow in Brendan's footsteps in the city of Copenhagen. But he's an actor. And heavy truths are hard when your job consists of make-believe. So he brings the hunt into the theatre, where the audience's imagination can help him catch the elusive prey that he seeks.
This performance is the culmination of two years of research, interviews and practical explorations into the connection between food and death. It seeks to confront our hidden hypocrisies, uncover the secret that the city keeps from us, and reveal shocking facts about ducks. Really. There's a lot you don't know about ducks.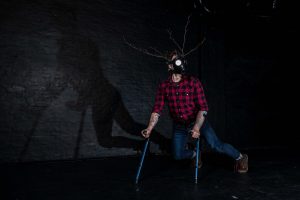 "Every single sound and every single movement felt magnified, gripping our full attention… a Magical mystery tour… with laughter and soul-searching…highly interactive nature of the play, and also the seamless transitions … an evening of laughter and soul-searching. Immersing the audience in a magical world."
(CphPost 2018)
Cast: Malte Frid-Nielsen
Directed by: Jeremy Thomas-Poulsen
Produced by: Down The Rabbit Hole Theatre
With the generous support of A.P. Møller Fonden.
Summer Performances
22-23 May at LitteraturHaus
24-26 May at Zangenbergs Teater (NB: Performance on Sunday is at 17:00, all other performances are at 20:00)
1-2 June at HUSET-KBH (part of CPH Stage)