To kick off 2019, HIT is proud to present our version of a Pinter classic: The Lover.
As thrilling as its mysterious cat-and-mouse games of sexual provocation were when it first appeared in 1962, as relevant it still is to this day. And we at HIT are taking it even further by reversing the roles of the wife and husband in this production – adding gender roles and even emancipation to the original themes of marriage and unfaithfulness.
"Is your lover coming today?" the wife asks casually as she is about to leave for work. This may seem a little out of the ordinary: Doesn't she mind her husband having a lover? Is this an open relationship – a way to spice up their love life? As you might expect from a Pinter play, there's a little more to it…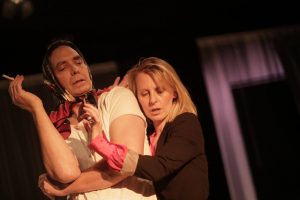 Tom Hale & Jana Pulkabrek (photos by Filip Orestes)
Join us for a couple's most intimate moments in this tale that gives the themes of unfaithfulness and marriage a new dimension – and implies some insecurities that cannot be said out loud.
"The Lover, in particular, is a near-flawless structure that does something rare in English drama: it shows that to survive, most marriages need a strong element of sexual fantasy." – The Guardian
"The Lover exemplifies Pinter's mastery of irony in this vignette of couple's suburban mundanity spiced up by infidelity." – A Younger Theatre
The performance is in ENGLISH.
Cast: Jana Pulkrabek, Tom Hale
Directed by: Jeremy Thomas-Poulsen
Light Design: Paul Damade
Stage Manager: Angelique Giroir
Produced by: Manusarts, Down The Rabbit Hole Theatre
VENUE
HUSET-KBH, Rådhusstræde 13, 4th floor, Stage, 1466 Copenhagen, Denmark